Click on the underlined hyperlinks for more detailed information. These guidelines will be updated as new information becomes available.
MVES Back to School Guidelines
ACS Announcements
There will be a Parent Informational Zoom meeting this Wednesday, January 27, 2021 beginning at 6:00 pm...

ATTENTION: Students, Teacher/School Employees, Parents and Community Members. Please look at calendar drafts and fill out the survey….

The Ashe County Board of Education held an emergency on January 14, 2021. The board voted unanimously to continue remote learning through February 1. The board will reassess this decision at the regularly scheduled February meeting. PreK students will continue to attend as normal.

Thursday, November 19th, we had a virtual COVID-19 community information event from 5:30pm- 6:30pm....

Video and Questions and Answers (English, Spanish, Bilingual) from November 16, 2020....

The U.S. Department of Agriculture has extended FREE school meals for the remainder of the school year! Children do not need to qualify for this benefit and FREE meals are offered to ALL children ages 0-18

Students, teachers, and parents across the nation are working their way through the pros and cons of virtual learning during COVID-19....

Applications are being accepted until filled.....

The ACS Curbside Meal Order Form Links Can Be Found on the Menu Page

Ashe County Schools is excited to announce Hotspots within our communities. These hotspots will work with all ACS devices. The WIFI's are for instructional purposes and are located at the following locations....

This document can be found under "Human Resources" - "COVID 19 & School Re-opening"

Yesterday, North Carolina Governor, Roy Cooper announced that NC Schools may choose to utilize Plan B to reopen schools on August 17....

You have been the rock, constant and source of comfort for our students during this time. That is themost valuable role you can fill right now....

Due to the State Board of Education's recent decision to hold students harmless as it relates to grading, we are updating our remote learning plan. ​The new statewide grading structure is as follows:....

A video series featuring NCDPI's Dr. Beverly Emory, Deputy Superintendent for District Support, and Dr. David Stegall, Deputy Superintendent for Innovation answering questions on topics related to school closures because of COVID-19....

Our Communication4Education fundraising program helps local school systems in the communities we serve raise additional funds....

If you have an interest in depositing money into the café at your school online, please check out the following info.
Orientation Video for K-2 Chromebooks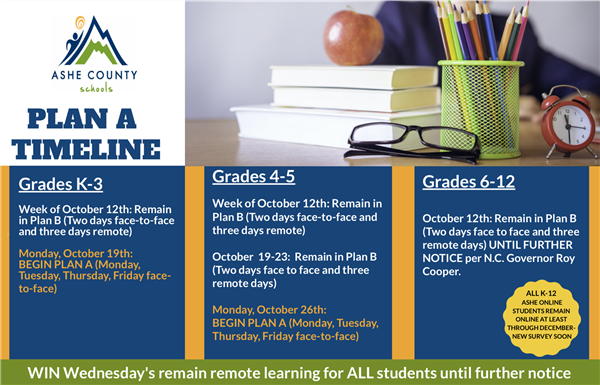 MVES Receives Outrageously Good Customer Service Award
The Ashe County Chamber of Commerce presented the teachers and staff of Mountain View Elementary with the Outrageously Good Customer Service Award. We are honored to receive the recognition and token of appreciation.
School Announcements
Click here for a list of resources and tutorials